In Cuba, Colombia's Santos Assumes Regional Mediator Role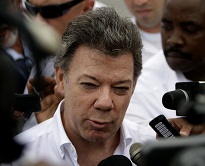 As a host of the upcoming Summit of the Americas in Cartagena and a rising economic star, Colombia is poised to raise its profile as a regional power broker. President Juan Manuel Santos has sought to renew ties with Ecuador and Venezuela after a period of tensions, and demonstrated his ability to act as a hemispheric interlocutor before the upcoming regional conference in Colombia. On March 7, Santos flew to Cuba for talks with Cuban leader Raúl Castro and Venezuelan President Hugo Chávez about the communist island's participation in April's Summit. The event, which unites the heads of states of 34 countries in the hemisphere, has never seen Cuba attend since the Summit began in 1994. But in February, countries from the Bolivarian Alliance of the Americas (ALBA)—including Bolivia, Ecuador, Nicaragua, and Venezuela—threatened a possible boycott of the event if Cuba does not attend. 
After meeting with the two leaders, Santos announced that due to a lack of consensus from other countries in the region, Cuba would not in fact attend the Summit. However, Santos said that Cuba's participation in future summits would be up for discussion at the meeting in April. While Cuban leaders blamed the United States for being excluded, they also were not surprised. "It's been a chronicle of an exclusion foretold," said Cuba's Foreign Minister Bruno Rodríguez. Still, some observers viewed the visit as a victory; Luis Guillermo Forero of Colombia's El Tiempo called it "a new success for Colombian diplomacy" and that Santos had "managed to maintain hemispheric unity and save the most important summit on the continent." Simón Gaviria, the president of Colombia's House of Representatives, even suggested that Santos could become the chief mediator to help restore diplomatic ties between Cuba and the United States. 
Santos' Cuba visit indicated his increasing level of engagement within the region and his willingness to act as a broker between competing interests, particularly the United States and ALBA countries. In Havana, Santos reaffirmed Colombia's amicable relationship with Cuba and said more could be done to create closer ties. He also continued to work toward restoring cordial relations with Ecuador and Venezuela. Ecuador broke diplomatic ties after a Colombian raid on Ecuadoran soil in 2008. Former President Álvaro Uribe broke diplomatic ties with Venezuela over allegations of harboring members of Colombian guerrilla groups in 2010. Santos restored official ties in August 2010 with Venezuela, and with Ecuador in November of the same year. After his Cuba visit, the Colombian leader took the opportunity to serve as a go-between with President Rafael Correa of Ecuador, the leader who suggested the ALBA boycott of the Summit. Santos called Correa on Thursday to discuss the outcome of the Cuba visit, and Correa promised to make a decision soon about Ecuador's attendance to the Summit. "The last thing I want is to create a problem for Colombia, such a dear country," Correa said during a March 8 press conference.
Since the restoration of ties, Colombian-Venezuelan cooperation on drug trafficking and security increased with the arrests and deportations of FARC members in Venezuela, as well as Venezuelan drug traffickers in Colombia. In an article for LatIntelligence, Sebastian Chaskel and Michael Bustamante explain: "Dialogue and negotiation, Santos seems to believe, will prove a better strategy for reducing the FARC's ability to use Colombia's neighbors as safe havens." Santos also hopes to restore commerical ties with Venezuela. After trade fell by 60 percent in 2010 during the diplomatic crisis, bilateral trade is on the rise again. In 2011, Venezuela imported nearly $1.5 billion worth of goods from Colombia, and exported $416 million to its Andean neighbor. During his Cuba visit, Santos agreed to proceed with a new bilateral trade agreement with Venezuela, which should be signed next week when Venezuela's foreign minister travels to Colombia. The agreement complements a November 2011 accord between the two countries, which lifted tariffs on 3,500 products. Venezuela also opened its doors to Colombian meat and livestock in February. 
Learn More: