Covid Check-in: Latin America's Tourism Sector Looks toward a Long Recovery
Covid pulled the rug out from under Latin America's tourism industry, which was growing at 10 percent annually pre-pandemic.
In March 2020, flights across the world were grounded, borders shut, cruises docked, and people ordered to stay home to prevent the spread of the then-novel coronavirus. By the end of the year, international tourist arrivals were down 78 percent compared to 2019. Closer to home, the International Monetary Fund (IMF) noted a 75 percent decline in overall mobility in the Western Hemisphere.
The collapse of global tourism hit Latin America particularly hard. During the five years prior to COVID-19, the tourism sector grew at a rate of roughly 10 percent across the region. By 2019, the Caribbean derived an annual average of 11 percent of GDP from tourism and Latin America 4 percent. This translates into 42 percent of total exports of goods and services in the Caribbean and 10 percent in Latin America. The World Travel and Tourism Council (WTTC) estimates that the pandemic cost Latin America's tourism industry $230 billion in losses in 2020.
The pandemic also cost 12.4 million jobs from the tourism industry, which connects to adjacent sectors including agriculture, food and beverage, construction, transportation, and the creative arts. In 2018, around 9 percent of employment in Latin America and the Caribbean was directly or indirectly linked to the industry. Tourism workers are often low-skill, informal, and seasonal—all workers who were disproportionately affected by the pandemic and whose jobs by definition could not be done from home. The industry also features a notable gender disparity: women make up 60 percent of the tourism workforce in Latin America.
Of course, the pandemic's effect on the tourism industry in the region is not equal. Mexico, which has the largest tourism sector in Latin America, experienced a $129 billion loss from this sector alone and a 69 percent reduction in the tourism workforce. Brazil, another major tourism destination, reported $51 billion in losses and saw 13 percent of the sector workforce, disappear.
Still, some smaller countries in the Caribbean and Central America faced the worst impact. Costa Rica, for example, faced a 48 percent fall in tourism revenues in 2020, which represents a 2.1 percent drop in the country's GDP.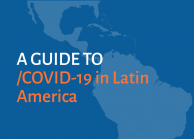 A Guide to COVID-19 in Latin America
Get resources on government responses, vaccine rollouts, and health impacts in the region.