Colombia Update: Presidential Race Is on
On February 26, the Constitutional Court of Colombia ended more than two years of speculation about a possible third term in office for President Álvaro Uribe. With Uribe out of the running, AS/COA looks at Colombia's presidential candidates.
On February 26, the Constitutional Court of Colombia ended more than two years of speculation about a possible third term in office for President Álvaro Uribe. On a 7-2 vote, the Court decided that the legislative initiative to allow for the president's re-election did have procedural irregularities and was unconstitutional.
The end of candidate Uribe
In what analysts have called a courageous act of statesmanship, President Uribe quickly acknowledged the Court's decision, saying that the rule of law was above public opinion and that the Court's decision had to be respected.
Had President Uribe been able to run again, he would have won by a large majority in the first presidential round. Up until last week, his favorability was still above 70 percent, according to Ipsos Napoleon Franco.
Without an Uribe candidacy, the electoral map is looking quite different, with contenders only now beginning to fully launch their campaigns. Presidential candidates will face off on May 30 for the first round of voting, leaving just under three months for the public to become more familiar with candidates' platforms. If no candidate secures a simple majority of the votes cast, which is expected at this point, a run-off election will be held on June 20.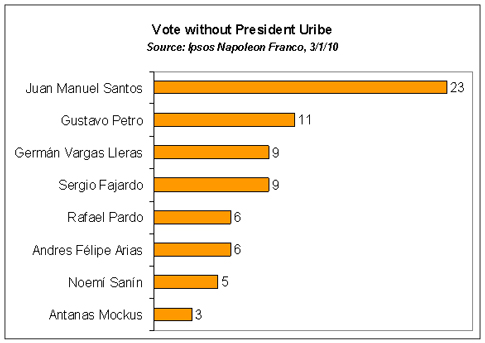 Meet the presidential candidates
The president has not singled out his choice among the candidates and it is unclear if he will do so any time soon. He has close ties with both former Defense Minister Juan Manuel Santos and former Minister of Agriculture and Rural Development Andres Felipe Arias, who met with him behind closed doors one day after the Court's decision. No details came out of those discussions.
Congressional elections to take place on March 14 will likely affect the presidential campaign. The elections will determine the relative strength of each party, which, in turn, will propel those candidates from the parties receiving the most votes. Presently, the coalition formed by the U party holds the most seats.
AS/COA provides an overview of each candidate:
Juan Manuel Santos is the candidate of the U party, currently with the largest representation in Congress. Santos is no stranger to government, having served as minister of exterior commerce under President Cesar Gaviria, minister of finance under President Andrés Pastrana and minister of defense in the current administration. In his defense role, Santos became instantly popular after the military rescue and release of politician Ingrid Betancourt, who was being held by the FARC. If he were to win, Santos has pledged to build on President Uribe's achievements, and continue his three key policies of democratic security, investors trust and social cohesion.
Sergio Fajardo is an independent candidate. A former major of Medellin, Colombia's second-largest city, he is well regarded as a successful administrator and politician. He improved Medellín's security by bringing down the homicide rate from 98 deaths per 100,000 people to 27 per 100,000 by the end of his term. He improved the city's urban landscape, built new public libraries, and worked to integrate Medellin's shanty towns with the city. When he was appointed mayor, Medellin had a fiscal deficit of about $ 30 million and by the end of his term it had a surplus of about $90 million. Fajardo has recognized the importance of President Uribe's democratic security policies, but has insisted on the need for more social programs and a greater focus on education, technology, and entrepreneurship.
Gustavo Petro is the presidential candidate for Polo Democratico Alternativo, the main opposition to the Uribe administration. A former M-19 militant and critic of the FARC movement, Petro has had a long public career as a member of the House of Representatives and currently as Senator. He gained public recognition after denouncing the paramilitary and FARC links with members of Congress. Petro has promised political reform to democratize local governments and to adopt a new economic ethic based on improved access to education, universal healthcare, a boost for the agricultural industry, and land reform. Although he won his party's internal elections, he has a legal suit against his registration due to his being a former guerrilla militant. The National Election Committee will make a final decision on March 8.
Germán Vargas Lleras is the candidate for Cambio Radical, a party that supports the Uribe administration. The grandson of former Colombian President Carlos Lleras Restrepo and nephew of the former ambassador to the United States, Carlos Lleras de la Fuente, Vargas Lleras built his political career in the Liberal party. He is a security and national defense expert, and as senator denounced the excesses committed by guerrillas during peace talks with the Pastrana administration. He supports Uribe's democratic security policies, which he promises to strengthen and continue.
Rafael Pardo won the internal elections for the Liberal Party presidential candidacy last November. A former Minister of Defense (1991-1994) Pardo is considered an expert in national defense, conflict resolution, and human rights issues. He held high-ranking positions during the Virgilio Barco and Cesar Gaviria administrations. He helped to lead the demilitarization of the M-19, PRT, and other subversive groups as the Peace Presidential Advisor and as the creator of the Bloque de Busqueda, a special police unit to combat the Medellin Cartel. His presidential platform is based on strengthening national security, implementing anti-cyclical fiscal policies, and regional integration in Latin America.
The Conservative Party and the Green Party are holding primaries for their candidates on March 14. The main conservative contenders are Noemi Sanin and Andrés Felipe Arias. Sanin, a former minister of communications and minister of foreign relations, would be running for the presidency for the third time. She has also been an ambassador to the UK, Spain, and Venezuela. Arias, a former agriculture minister, is a popular but contentious political figure. He's currently under investigation by the attorney general for a program that he spearheaded (Agro Ingreso Seguro) that allocated funds irregularly. Both Sanin and Arias are well-known supporters of Uribe's democratic security policies.
The Green party, a new political movement, was created by Lucho Garzon, Enrique Peñalosa, and Antanas Mockus, three former mayors of Bogota. One of the three will be the party's presidential candidate.