Cecilia Tornaghi en NTN24: América Latina y los ciberataques ¿Cómo hacerle frente?
"La ciberseguridad debe estar incluida en todos los rangos de gobierno", dijo la directora de políticas de AS/COA.
Cecilia Tornaghi, directora senior de políticas de AS/COA y editora de Americas Quarterly, habló con Alejandro Rincón de NTN24 sobre el último número de la revista, enfocado en la vulnerabilidad de América Latina respecto a la ciberseguridad.
Tornaghi habló del artículo principal que escribió para la revista y sobre cómo éste empieza poniendo como ejemplo un masivo ataque cibernético perpetrado contra el gobierno de Costa Rica.
"Fue un ataque que nadie esperaba realmente porque el resto de ataques hasta entonces había sido contra una empresa, una institución. Este no. Fue a todo el país. Empezaron por el ministerio de finanzas, pero desde ahí se arrastraron a todas las agencias públicas de Costa Rica. Entonces se demostró el tamaño del peligro, el riesgo para la región", dijo Tornaghi.
"Tenemos defensas muy ligeras. Hablamos de esto pero hacemos, propiamente, muy poco. La gestión de ciberseguridad, como dice uno de los especialistas con quien hablé, es que es como una vía pública que conecta todo el planeta. Entonces tener simplemente una persona aquí o tener un ingeniero allá, no es suficiente", señaló Tornaghi en la entrevista.
"Hay que hacer una política de estado. Lo que no tenemos en la región es exactamente eso, una política de estado que sea seria y que incluya a la ciberseguridad en todos los rangos de gobierno y de instituciones privadas también. Que se piense en la ciberseguridad como parte integral", explicó Tornaghi.
La periodista destacó que se necesita más educación sobre ciberseguridad y su importancia. "La gente debe comprender que esto nos afecta a todos. Una simple contraseña invadida por un hacker es suficiente para que todo un sistema sea infectado", concluyó Tornaghi.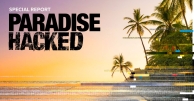 Americas Quarterly's New Issue: Latin America's Alarming Vulnerability to Cyberattacks
The magazine's latest edition explores how Latin America is the world's most vulnerable region to cyberattacks. What's at risk and what can be done?