Bringing Youth into Labor Markets: Public-Private Efforts amid Insecurity and Migration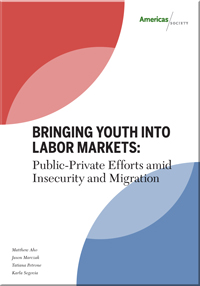 This white paper presents the findings of Americas Society's (AS) Ford Foundation-funded research on innovative practices that foster youth access to formal labor markets. Carried out as part of the AS Social Inclusion initiative, this report highlights innovative private-sector programs that promote youth employment as well as public policy efforts to foster opportunities for young workers in El Salvador and Mexico—countries grappling with youth unemployment along with security and migration challenges. The focus is on initiatives that further skills training, entrepreneurship, and support for at-risk youth.
Youth unemployment and underemployment is a regionwide challenge. One result is the growing phenomenon of ninis—youth who neither study nor work ("ni trabajan, ni estudian")—and the serious challenges this raises for both business and policymakers. Overall, 16-to-24 year olds comprise nearly 20 percent of the population, but youth unemployment is nearly triple that of the adult population.
---
---
Recommendations include:
Mechanisms should be established to subject private-sector led programs to rigorous evaluations with the goal of ensuring the continuity of successful initiatives.
The private and public sectors should provide incentives, such as guaranteed internships/apprenticeships or education scholarships, for youth who study the skills that nationwide employment trend forecasts determine are in highest demand.
Nationally recognized accreditation systems in technical and non-technical skills should be created so that young job-seekers and employers can verify employment preparedness.
Employers must reverse the bias and discrimination that prevents the hiring of at-risk youth.
About the AS Social Inclusion Program:
With a grant from the Ford Foundation, the Americas Society is working to strengthen the voice of marginalized groups by presenting new research and promoting fresh debate on how the public and private sectors can address systemic challenges to social inclusion. In addition to youth unemployment, our efforts have focused on health care, education, and minority political inclusion as key determinants of economic and social mobility. Learn more about Americas Society's Social Inclusion program.