Brazilian Governors Luncheon Discussion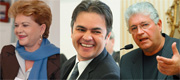 As part of a series featuring governors of Brazil, the Americas Society and Council of the Americas convened the governors of Rio Grande do Norte, Paraíba, and Paraná to discuss opportunities and challenges in their respective states. Topics included overall economic growth, business and investment, bio-energy, tourism, technology, and infrastructure. 
The governors represent states in the northeastern and southern regions of Brazil:
Wilma M. de Faria, Governor of Rio Grande do Norte

Cássio Cunha Lima, Governor of Paraíba

Roberto Requião, Governor of Paraná
The public meeting brought together 80 leaders from the private sector, academia, and government. Each governor spoke for approximately 15 minutes and answered questions posed by AS/COA members and guests.
Background
Reelected in 2006, all three governors have taken action to attract investments and promote sustainable development in accordance with the Growth Acceleration Plan (PAC) promoted by the federal government. 
Altogether, the economies of Rio Grande do Norte, Paraíba, and Paraná represent roughly 10 percent of Brazil's GDP, with residents making up just over 9 percent of the Brazilian population. Rio Grande do Norte and Paraíba—both smaller than Paraná in terms of population and economic size—have the potential to boost state incomes by developing tourism and renewable sources of energy. Paraná, the state with the fifth largest economy in Brazil, has well-developed industrial, agricultural, and service sectors. 
Summary
Brazil's current macroeconomic stability, competitiveness, and increasing global leadership are essential components for future growth. All three governors expressed confidence in Brazil's ability to boost its international profile. However, they warned that federal and state governments must pay special attention to promoting infrastructure development, social inclusion, and education. Although most states invest in ports, roads, energy supplies, and sanitation, the federal government must play a larger role in improving infrastructure. All three governors view innovations in science and technology, as well as education, as central to boosting the value of the country's human capital. For that, each state has increased the percentage of budgetary funding directed toward education.
Current Situation
Rio Grande do Norte
Located in the part of Brazil closest to Europe and Africa, Rio Grande do Norte has thriving trade with the European Union. In addition, the state's economy has been growing at a higher rate than the national average. Governor Faria's administration has focused on promoting economic growth with a particular emphasis on developing infrastructure and tourism, improving education, and attracting businesses through financial incentives. The state's capital, Natal, ranks at the top of the Human Development Index (an index used by UN Development Program to measure human development) among Brazilian cities, and has the highest average family income in northeastern Brazil. For Governor Faria, it is essential to prepare workers for a globalized world; he plans to invest 31 percent of the state's budget in education.
The Rio Grande do Norte economy revolves around natural resources; it is Brazil's fourth largest producer of mineral assets such as ornamental rocks and sea salt. The state also possesses the country's second largest petroleum reserves and the fourth largest natural gas reserves along with the capacity to develop wind and solar energy. To boost the economy and increase its presence in the national and international market, the state is diversifying its economic activities and offering natural gas subsidies to businesses.
Paraíba
Small but dynamic, Paraíba has the largest and most integrated internal infrastructure network of natural gas in northeastern Brazil, as well as one of the Northeast's best highway systems. As Governor Lima pointed out, the state is strategically located in relation to other large northeaster economic centers. Paraíba has reduced poverty faster than any other Northeastern state and enforces an austere fiscal policy committed to reducing debt, said Lima. The state's biggest investment opportunities lie in sectors such as tourism, civil architecture, and agriculture, particularly fruit cultivation. 
Paraíba can potentially become an important base for sugar cane-based ethanol production as well as bio-diesel production from castor oil. The federal government plansto install a bio-diesel station in Campina Grande. The city, known internationally as a center for innovation in software, hopes to expand its technology portfolio to include hardware. Governor Lima described public-private partnerships as a core component to promoting growth. Like Rio Grande do Norte, the state offers fiscal incentives to attract investment from large companies.
Paraná
Located in the heart of the Mercosur trading bloc, Paraná produces a quarter of Brazil's food. Its diversified economy maintains a large industrial component and a developed services sector. Governor Requião noted that the state accounts for 10 percent of Brazilian exports; commodities include grains, cereals, automobiles, soy products, and vehicle and truck motors. Companhia Paranaense de Energia (Copel), the state-owned energy company, serves as the largest producer of electricity in Latin Americaand offers the lowest price for electric energy in the country, said Requião. As the second largest producer of alcohol for energy, Paranáalso offers great prospects for ethanol production. 
While discussing his administration's priorities, Governor Requião emphasized the importance of promoting small and medium-size business, investing in education, and instituting poverty alleviation policies. With environmental issues at the forefront of the governor's concerns, the state has developed environmental management programs geared toward preserving biodiversity.
Requião is convinced that Brazil, and particularly Paraná, will continue to boost its participation in the global economy. Global leadership rests on business investment as well as social inequity reduction. Recognizing the link between education and development, Paraná dedicates dedicates 30 percent of the budget to education.