Boost for U.S.-Peru Trade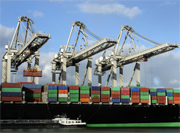 The U.S. House of Representatives passed the U.S.-Peru Trade Promotion Agreement (TPA) Thursday by a wide margin of 285 to 132. The pact, the first of its kind approved since Democrats gained control of Congress in 2006, included tightened environmental and labor regulations to win support. The accord heads to the Senate for a vote, where approval is expected. 
The United States serves as Peru's main trading partner. Bilateral trade between the two countries nearly tripled during the course of a decade, jumping from just over $3 billion in 1996 to more than $8.8 billion in 2006.
U.S.-Peru trade increased through tariff elimination carved out in the 2002 Andean Trade Promotion and Drug Eradication Act. During testimony to Congress in September, COA Vice President Eric Farnsworth noted that open market access has helped the Andean country diversify its economy, "providing alternatives to the coca production and guerrilla activities that ravaged Peru." The U.S. International Trade Commission predicts passage of the U.S.-Peru TPA will lead to another $1.5 billion bilateral trade increase. 
In a statement about the deal, U.S. Trade Representative Susan Schwab
commented
that passage will allow Peru "to enjoy continued economic growth and greater economic and political stability." Schwab went on to urge an "equally strong and bipartisan vote" on pending free-trade agreements with Colombia and Panama. Although the White House has
worked
to gain congressional support for those pacts, their approval appears unsure in comparison with that of the U.S.-Peru TPA. Some experts say recent paramilitary scandals serve as an
obstacle
to approval of the Colombia deal, and Capitol Hill may also
balk
at passage of the Panama pact following that country's assembly election of a politician wanted for the 1992 killing of an American soldier.
A new AS/COA congressional update outlines passage of the U.S.-Peru pact and what ratification means for hemispheric trade and regional relations. The House vote comes days before AS/COA hosts a Latin American Cities Conference in Lima on "Growth and the Social Agenda." Speakers include Prime Minister Jorge del Castillo Vice Minister of Foreign Relations Gonzalo Gutiérrez; trade policy and APEC 2000 are among the topics to be discussed.