Bloomberg: Eric Farnsworth about Jair Bolsonaro's Visit to the White House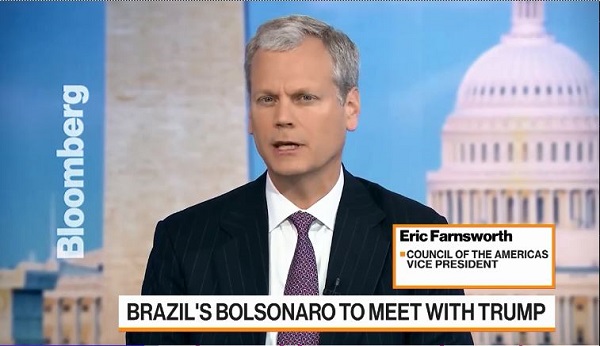 Eric Farnsworth, vice president of AS/COA spoke with Bloomberg Markets: Balance of Power ahead of Brazilian President Jair Bolsonaro's visit to the White House on March 20. 
"Bolsonaro needs to get a symbolic pat on the back that he's going in the right direction," said Farnsworth about one of the reasons of the meeting. "He's also looking for commitments on investments from the United States, particularly in infrastucture."
Farnsworth also discussed how the trade war between the U.S. and China has influenced Brazil's and Latin America's agriculture production. "The trade war between the U.S. and China has actually been to Brazil and Argentina's benefit and other producers in South America, particularly Brazil which is such a major globally competitive agriculture producer." He explained that "if China is beginning to soak up products from the United States, they have to come from somewhere and that will be to Brazil's detriment."
Watch the full interview. (Starting at minute 10:36)