AQ Interview: Judith Morrison on Afro Latinos in the Region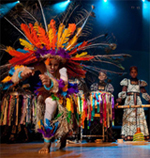 Afro Latinos continue to make significant strides in furthering their integration across the Americas. Judith Morrison, senior advisor in the social sector of the gender and diversity unit at the Inter-American Development Bank talks with AQ online about how African descendant communities are using technology to increase inclusion as well as the role of government policies.
Americas Quarterly Online: How have attitudes among young Latin Americans of African descent have changed in the past 10 years with regard to their own African heritage?
Morrison: In the 1990s when I started working with African descendant communities in Latin America, there was no common vocabulary to describe the experience of African descendent people throughout the Western Hemisphere. Most young people who were becoming aware of their cultural identity self-identified using terminology that was based on their individual community or region. A sense of the interconnectedness of the African-descendent experience throughout the Americas is now much more common-place particularly among young people. One of the main factors for this awareness is networking technology that allows multilingual African descendant young people from around the region to share their experiences and concepts of identity.
Access the full story at AmericasQuarterly.org.