Abstract Art from Río de la Plata: Buenos Aires and Montevideo 1933-1953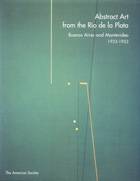 This exhibition catalogue of paintings and sculptures includes publications and manifestos from throughout the period. Artists include Tomás Maldonado, Esteban Lisa, Joaquín Torres-García, Juan del Prete, Carmelo Arden Quin, Rhod Rothfuss, Martín Blaszko, Antonio Llorens, Mario Freire, Manuel Espinosa, Gyula Kosice, Juan MeIé, Lidi Prati, Alfredo Hlito, Raúl Lozza, Enio Lommi, Claudio Girola, Gregorio Vardánega, Rodolfo Ion Uricchio, José Pedro Costigliolo, and Victor Magariños. Essays by Mario Gradowczyk, Nelly Perazzo, Lisa Block de Behar and Edward J. Sullivan.
2001 159 pp. color and b/w illus.