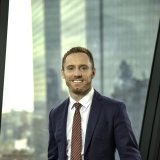 Todd Martinez
Co-Head of Americas Sovereign Ratings, Senior Director, Fitch Ratings
Todd Martinez is a senior director and co-head of the Americas in Fitch Ratings' Sovereigns Group, responsible for overseeing analysis and ratings of sovereign credits in the Americas. He has been with Fitch since 2014, and during this time has served as analyst for numerous sovereign credits throughout Latin America. 
Before joining Fitch, Todd served as an economist at the Institute of International Finance (IIF) in Washington, DC, conducting analysis of country-specific and regional macroeconomic developments in Latin America. Todd previously worked as an analyst in a consulting firm in his home state of Colorado, where he carried out fiscal impact studies and data analysis of public policy issues. 
Todd earned his M.A. in economics and Latin American studies from Johns Hopkins School of Advanced International Studies (SAIS). He earned a B.A. in international affairs from the University of Denver, after which he spent a year conducting research as a Fulbright Scholar in Uruguay. He is fluent in Spanish and Portuguese.