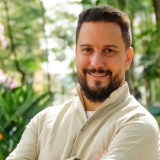 Thiago L. Fernandes
Head of LatAm, Social and Environment Group, Bank of America
Thiago L. Fernandes is head of social & environment for Latin America at Bank of America (SVP). He is a member of the LatAm Executive Committee (ExCo), the LatAm ESG Committee, the LatAm ESG Risk & Regulatory Steering Group, the LatAm Cross LOB Sustainable Finance Working Group, the Brazil D&I Committee, among other related committees. 
Based in São Paulo, Brazil, Thiago is responsible for all Social & Environmental related activities in Latin America, including support to: sustainable business, by reviewing deals, KPIs and onboarding of clients; governance and policies; D&I; climate change and other related risks. He and his team are fully responsible for volunteerism, employee engagement, arts and culture programs, and philanthropic investments—throughout which +1.3 million individuals have been benefited in 2022 alone. 
Prior to joining the bank in 2011, Thiago built a very diverse professional background. He dedicated many years to strategic consulting and international business and was partner in a variety of entrepreneurial initiatives, until establishing a CSR consulting company. During some years, he led United Nations Association in Brazil to implement an educational project in São Paulo and founded an NGO himself. He also acted as COO to restructure an institution that sheltered about 2,000 homeless in 120 houses, where he acquired in depth understanding on dignity and stages of human development by living for one year with the homeless. 
In New York, Thiago organized the Sustainable Development Forum in 2007 and 2008, which gathered global business and governmental leaderships including former Presidents Bush Sr. and Clinton, and worked briefly at Americas Society/Council of the Americas, the premier forum dedicated to dialogue in the hemisphere. 
Thiago has a B.A. in International Relations at the Catholic University of São Paulo (PUC-SP), with strong background on social and political science. He also attended a two-year specialization course in project management at Fundação Vanzolini/University of São Paulo (USP), to acquire technical tools through this foremost engineering school. More recently, he got a certificate on Sustainable Finance by the Cambridge Institute for Sustainability Leadership (University of Cambridge). 
He regularly travels the world in self-organized humanitarian trips to deepen his social and anthropological knowledge, get in touch to different social and cultural contexts, benchmark successful projects, understand people's pains and needs, and contribute with his own experience when there is a chance. He has visited +40 countries and is fluent in Portuguese, German and English, and speaks Spanish. 
Most importantly, Thiago is married to a wonderful wife and has four very fun kids.