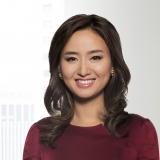 Shery Ahn
Anchor, Bloomberg Television
Shery Ahn is the New York-based anchor for Bloomberg Television's flagship market open programs Daybreak Asia and Daybreak Australia. Every weekday from 6 to 9 p.m. ET, Ahn brings the Wall Street close to Bloomberg's global audience and kickstarts the trading day for investors in Asia, setting up the agenda for the opens in Europe and the Middle East.
While covering the emerging markets of Latin America, she interviewed top political leaders such as Chilean President Sebastián Piñera, Colombia's Juan Manuel Santos, and Brazil's Michel Temer. She has also interviewed some of the most influential figures in U.S. and European business such as Virgin Group founder Richard Branson.
Before moving to New York, Ahn was based in Hong Kong where she covered key events including the G20 summit from Hangzhou and BOJ policy decisions from Tokyo. Her conversations with Asian business leaders and policymakers include Baidu's Robin Li, Bank of Japan Governor Haruhiko Kuroda, and Tokyo's Governor Yuriko Koike.
Prior to Bloomberg, Ahn was based in Tokyo as an anchor for Japan's public broadcaster NHK World, where she reported live on the 2011 earthquake and Fukushima nuclear disaster. Ahn began her broadcast career in Seoul as a diplomatic correspondent covering North Korea and the Six-Party Nuclear Talks in Beijing.
Ahn was raised in Bolivia and speaks Spanish, English, Korean, and Japanese. She graduated from Seoul National University and is currently earning an MS in global affairs from New York University.