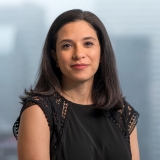 Shelly Banjo
New York Bureau Chief, Bloomberg
Shelly Banjo is the New York Bureau Chief of Bloomberg, overseeing more than 1,100 journalists at the company's world headquarters, as well as Bloomberg's news coverage of New York, New Jersey and Connecticut. She also sits on Bloomberg's equality task force.
Previously, she was a Senior Writer on Bloomberg's Tech team in New York and Hong Kong where she wrote extensively about the US-China tech war, Hong Kong anti-government protests, and TikTok -- the subject of her podcast "Foundering: The TikTok Story." She was also a columnist for Bloomberg Opinion.
Before joining Bloomberg, she wrote about the future of finance at Quartz and spent eight years at The Wall Street Journal writing about retail, e-commerce, and finance. While at the Journal, she helped launch the WSJ's Greater New York section.
A native Texan, she lives with her husband and son in Brooklyn, where she sits on the board of the Brooklyn Children's Museum. She is a graduate of Northwestern University and has an MBA from NYU's Stern School of Business.