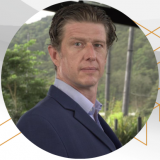 Sean Porter
Development, New Businesses and Commercial Director, Energy Unit, Capital Business Group, CMI
Sean Porter is the Development, New Businesses and Commercial Director of the Energy Unit of the Capital Business Group of CMI-Corporación Multi Inversiones. CMI is a Latin American multinational family corporation which came to life in Central America investing and creating employment and development in the region. Founded in Guatemala in 1920, it currently employs more than 40,000 people in 16 countries.
Currently, he is responsible for managing business development activities for a portfolio of projects of more than 700MW and potential acquisitions in Mexico, Guatemala, Nicaragua, Panama, El Salvador. Dominican Republic and Costa Rica for the largest private renewable energy company in Central America. He also supervisees energy marketing and purchase/sale operations for the Guatemalan and El Salvador ION & EON trading companies, as well as energy sales of less than 800 MW in Power Purchase Contracts (PPAs) in Costa Rica, Guatemala, Honduras, El Salvador, the Dominican Republic and Nicaragua.
He participated in the largest placement of USD 700 million of Green Bonds by a renewable energy company in Central America and the Caribbean to date and represents the entry of the company into the international capital market , with the largest and most diversified private, 100% renewable energy portfolio in the region.
He holds a bachelor's degree in Political Science and Economics from Oakland University and a master's degree in International Relations with a specialty on international economics and development economics in Latin America from the School of Global Policy and Strategy at the University of California, San Diego.