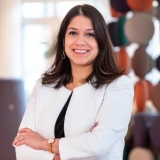 Sarah Aiosa
SVP & President, Latin America, Merck
Sarah Aiosa has been serving as SVP and President, Latin America for MSD (known as Merck & Co. Inc, in US and Canada) since February 1, 2022. In her current role, she sets the strategic direction and oversees pharmaceutical operations in human health across all Latin American subsidiaries encompassing 4,000 employees in more than 20 countries. Sarah also serves on the Board of Directors for the Council of the Americas.
Before joining Latin America, Sarah held the position of Managing Director and CEO, MSD Sweden. Sarah has a background in strategic and operational roles in US, Global and ex-US. Prior to her time in Sweden, Sarah was AVP, Global Commercial Lead in Oncology. She joined Merck in 2016 in Global Oncology Marketing. Prior to Merck, Sarah gained experiences in several companies, including Novartis, sanofi-aventis and Eli Lilly. She has worked in areas such as medical affairs, patient education, sales, direct-to-consumer marketing, and public relations/crisis management.
Sarah holds a Master's in Public Health from the Johns Hopkins Bloomberg School of Public Health and a Bachelor's in Biological Sciences from Rutgers University. Sarah resides in New Jersey, US with her husband Robert and their children Alex (13), Michael (13) and Maddie (11). In her spare time, she enjoys reading fiction, yoga, traveling, and riding roller coasters at adventure parks with her intrepid daughter.