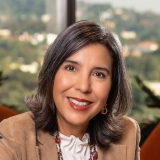 Rosana Padilla
President, Latin America, Kenvue
Rosana Padilla serves as president, Latin America for Kenvue. In this role, Rosana leads operations across Latin America for a portfolio that spans OTC/Self Care, Skin Health/Beauty, Oral Care, Baby Care and Woman's Health with iconic brands like Tylenol®, Neutrogena®, Listerine® and Johnson's®. 
Under her leadership, Latin America has become the fastest growing region through clear strategic choices and strong brand value creation. Rosana strengthened the company's footprint in the region, positioning our science-based brands where they can make the biggest impact and serve more people, helping consumers in Latin America live healthier lives every day. She also embedded our commitments on sustainability and digital transformation into value drivers for customers and consumers, driving innovation in our offerings and in the way we operate. 
Rosana is a seasoned international leader with more than 15 years at Johnson & Johnson. Leading through purpose, she has dedicated her career to developing high-performing, resilient teams that are anchored in a strong set of values. She is a firm believer that personal and professional development holds a direct link with growth and well-being for individuals, families and the communities we serve. She was a sponsor of Johnson & Johnson's Woman's Leadership and Inclusion, a global employee resource group that drives gender balance within and outside our company and is an honorary member of the Latin American Pact for Education with Human Quality (PALECH), a non-profit organization focused on achieving social development through academic improvement. 
Before leading Latin America, Rosana led Johnson & Johnson Consumer Health's Northern Latin American Cluster, where she achieved sustained above-market growth, positioning the region as a solid growth accelerator. She also drove significant value through the integration of the cluster's business model, developing a renewed, successful approach in the company's route-to-market strategies. 
Rosana joined Johnson & Johnson in 2006 as the managing director for Consumer Companies in Central America and subsequently held positions of increasing responsibility in general management, sales and customer development. Prior to joining Johnson & Johnson, Rosana worked for 14 years at Gillette.
Rosana serves on the Latin American Board of the Consumer Goods Forum. She holds a degree in Marketing and Business Administration from the Monterrey Institute of Technology and Higher Education and a postgraduate degree in Senior Management.