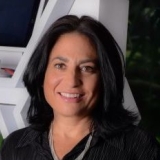 Romina Seltzer
Senior Vice President, Products & Innovation for Visa Latin America & the Caribbea
Romina Seltzer is senior vice president and head of Products and Innovation at Visa Latin America and the Caribbean, where she drives Visa's portfolio of Core Products, Digital Platforms, Processing, and Innovation Centers in the region. With more than 20 years of knowledge in payments, Romina manages and leads Visa's products and innovation strategy across the region. 
Romina is an experienced Visa leader who joined the company in 2001, and until recently headed Visa Latin America's Strategy team. 
In that role, she spearheaded the development of strategies and action plans to improve Visa's strategic and growth position across markets in Latin America and the Caribbean. Romina was also responsible for the Pricing and Interchange functions for the region. 
Prior to that, she served as assistant vice president in the Visa Consulting team, where she worked with clients on the identification of opportunities to improve the performance and profitability of their Visa portfolios. 
Before specializing in the payments industry, Romina worked for Arthur Andersen as a senior consultant. 
Argentine-born, Romina holds a bachelor's degree in accounting, and an MBA from the MIT Sloan School of Management. She is married and has a 16-year-old daughter and a 13-year-old son.