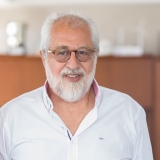 Rolando González-Bunster
CEO and Chairman, InterEnergy
Rolando González-Bunster founded the business in 1988 and has over 40 years of experience in project management and business development. He began his career at Gulf & Western Industries where he started out as a special assistant to chairman and founder Charles Bluhdorn, eventually becoming its youngest corporate Vice President and Head of International Operations. After Gulf & Western, he went on to establish his own companies to acquire and operate assets in the region. 
González-Bunster, Georgetown University College Class 1968, serves on many of his alma mater's boards. He was chair of the International Initiatives Board and is currently a trustee on the Board of Advisers of the Georgetown College of Arts and Sciences and director of the Latin American Board. 
He is a director and trustee of the William, Hillary and Chelsea Clinton Foundation. He is also a member of the Energy Committee of the Clinton Global Initiative, focusing on the development of clean and renewable energy. Rolando is proud to be a founding member of the Walkabout Foundation which has distributed 21,000 wheelchairs to date.