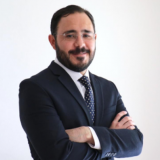 Rodrigo Mariscal Paredes
Head of Economic Planning Unit and Chief Economist, Secretariat of Finance
Rodrigo Mariscal Paredes is chief economist and head of the Economic Planning Unit at the Ministry of Finance and Public Credit. Previously he was director general of macroeconomic analysis within the same Secretariat.
He served as a principal analyst at the Institute of International Finance and the International Monetary Fund in Washington, DC, where he also served as a consultant in the research department of the Inter-American Development Bank.
Mariscal completed his Master's Degree in Economics at El Colegio de México and Bachelor's Degree in Economics at the National Autonomous University of Mexico (UNAM).
Rodrigo Mariscal Paredes es Economista en Jefe, Titular de la Unidad de Planeación Económica en la Secretaría de Hacienda y Crédito Público. Anteriormente fue director general de análisis macroeconómico dentro de la misma Secretaría.
Se desempeñó como analista principal en el Instituto de Finanzas Internacionales y el Fondo Monetario Internacional, en la ciudad de Washington, DC, donde también se desempeñó como consultor en el departamento de investigación del Banco Interamericano de Desarrollo.
Asimismo, Rodrigo Mariscal realizó sus estudios de Maestría en Economía en El Colegio de México y de Licenciatura en Economía en la Universidad Nacional Autónoma de México (UNAM).