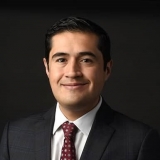 Richard Martínez
Vice President for Countries, Inter-American Development Bank
Richard Martínez Alvarado was appointed Vice President for Countries on November 16, 2020.
Prior to joining the IDB, he served as Minister of Economy and Finance of Ecuador since May 2018. In that role, he led the design and implementation of the Prosperity Plan, which supports fiscal consolidation, monetary stability, social protection, revitalization of employment and productivity, and transparency. He also reestablished Ecuador's relations with the international financial community, resulting in the country's first International Monetary Fund (IMF) Exceptional Access program; renegotiated Ecuador's private external debt; and restructured the country's bilateral debt with China.
As Minister, Mr. Martínez spearheaded measures to safeguard jobs and industry. He also pursued initiatives to catalyze investment, simplify and strengthen the tax system, ensure sustainability of the public debt, secure the independence of the Central Bank, expand social protections and increase transparency in fuel pricing.
During this period, Mr. Martínez also served as President of the Board of the Ecuadorian Development Bank (BEDE) and President of the Board of CAF (Development Bank of Latin America). He was also a member of the Global Coalition of Finance Ministers for Climate Action, an initiative that brings together 50 countries to lead a fair transition to a low-carbon economy, as well as a member of the World Bank Group's Advisory Council on Gender and Development, which advises on gender equality as a requirement for poverty reduction and shared prosperity.
He was named a Young Global Leader by the World Economic Forum in 2019 and was chosen Latin American Finance Minister of the Year by GlobalMarkets newspaper in 2020.
Previously, Mr. Martínez was President of the Ecuadorian Business Committee (2015-2018), President of the National Federation of Chambers of Industries of Ecuador (2015) and Executive President of the Chamber of Industries and Production of Ecuador (2014-2018). He also led the creation and implementation of Productive and Sustainable Ecuador 2030, a private-sector initiative that empowers actors across society to pursue the UN's Sustainable Development Goals through the Fourth Industrial Revolution.
Mr. Martínez holds a degree in economics from the Catholic University of Ecuador, a postgraduate degree in international economics from the University of Barcelona and an MBA from Ecuador's IDE Business School. He has also taken specialized courses at Harvard University's Kennedy School, INCAE Business School, the Polytechnic University of Madrid and at several international organizations.