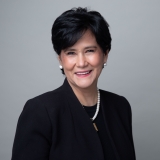 Reina Irene Mejía Chacón
Executive Vice President, Inter-American Development Bank
Reina Irene Mejía Chacón, a Honduran citizen, was appointed executive vice president of the Inter-American Development Bank (IDB) on December 16, 2020.
Prior to joining the IDB, she spent nearly 25 years at Citibank Honduras, serving as CEO and corporate and investment bank head since 2013. She also served as president of the Boards of Citi Crédito and Citi Inmobiliaria, and as secretary of the Board of Banco de Honduras, since 2014. In 2017, she became secretary of the Board of Grupo Financiero Citibank Costa Rica.
Among several roles prior to her appointment as CEO, Mejía was the institutional clients group director for Honduras and Nicaragua as well as corporate business and public sector head. During her tenure at Citibank, she was a central actor in all major corporate transactions, supporting all clients. Mejía also served as president of the Honduran American Chamber of Commerce. Among positions in her early career, she was general manager of FUNDES Honduras, a consultancy firm specializing in the development of MSMEs.
In addition, Mejía has held Board positions or senior roles at several other financial and educational institutions in Honduras and has been active in a range of women's business-leadership initiatives. She also founded and worked for more than a decade as treasurer of the Honduras chapter of Operation Smile, which has helped more than 5,000 children by providing surgeries to correct cleft lip and palate.
Strategy and Business magazine named Mejía one of the most influential women in the region in 2017, 2018, and 2019, as did Forbes Central America in 2018.
She holds a bachelor's in economics and an MBA from Southern Illinois University.