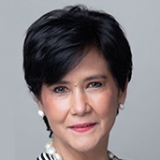 Reina Irene Mejía Chacón
Executive Vice President, Inter-American Development Bank
Reina Mejía is the executive vice president for the Inter-American Development Bank.
Prior to holding this position, she spent 25 years at Citi Honduras as the CEO and the Corporate and Investment Bank head. She has also served as president of the Boards of Citi Crédito and Citi Inmobiliaria, and as secretary of the Board of Banco de Honduras.
Preceding her appointment as CEO, Mejía was Institutional Clients Group director for Honduras and Nicaragua as well as Corporate Business and Public Sector head where she was a central actor in all major corporate transactions.
In addition to all her work in the financial sector, Mejía has held Board positions or senior roles at several educational institutions in Honduras and been active in a range of women's business-leadership initiatives. She founded and worked for more than a decade as treasurer of the Honduras chapter of Operation Smile.