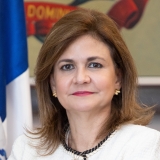 Raquel Peña Rodríguez
Vice President, Dominican Republic
Raquel Peña Rodríguez became the third woman in the history of the Dominican Republic to hold the position of vice president in July 2020. Among her functions as vice president, she was also appointed by President Luis Abinader as coordinator of the Health Cabinet, president and coordinator of the Investment Promotion Cabinet, provisional head of the Ministry of Environment and Natural Resources, and president of the Electrical Cabinet. She is also a member of the Executive Directorate of the Modern Revolutionary Party (PRM). 
In 2000, she became a professor at the Pontificia Universidad Católica Madre y Maestra (PUCMM) at the technical, undergraduate, and postgraduate levels. Later, she joined the administrative area, as director of the business administration career and director of the International Center for Innovation in Technology and Administration (CITAM), becoming vice rector of Administration and Finance at PUCMM, in addition to founding the PUCMM-Emprende center. She has a degree in business administration from PUCMM. In addition, she studied in the areas of education, finance, entrepreneurship, and innovation, as well as in Business Incubators both in the Dominican Republic and abroad, obtaining a double MBA from the University of APEC and the University of Quebec in Montreal. She combined her studies with work at an early age, rotating through all areas of family businesses until she assumed the responsibility of general manager in commercial and tobacco companies. She is also a member of different business associations and is a strong vocation for education. 
She was born on September 10, 1966 in the city of Santiago de los Caballeros, Dominican Republic. She grew up in an entrepreneurial family, who ran businesses in different sectors and drove the creation of jobs in the area. Peña Rodríguez was raised in a civic family, who always supported the actions of the different Dominican democratic leaders. She is a mother, grandmother, entrepreneur, and defender of education as a tool for improvement.
Raquel Peña Rodríguez se convirtió el 5 de julio del año 2020 en la tercera mujer en la historia dominicana en ocupar el cargo de vicepresidenta de la República. En sus funciones como vicepresidenta de la República Dominicana, cabe destacar la designación por parte del presidente Luis Abinader, como: coordinadora del Gabinete de Salud, presidenta y coordinadora del Gabinete de Promoción de Inversiones, encargada provisional del Ministerio de Medio Ambiente y Recursos Naturales, y presidenta del Gabinete Eléctrico, concluyendo así sus funciones como coordinadora del Gabinete de Salud. Es, además, miembro de la Dirección Ejecutiva del Partido Revolucionario Moderno (PRM). 
Es en el año 2000 cuando desarrolla formalmente dicha vocación educativa, como catedrática en la PUCMM, en los niveles técnico, de grado y postgrado. Más adelante, se incorpora en el área administrativa, como directora de la carrera de Administración de Empresas y directora del Centro Internacional de Innovación en Tecnología y Administración (CITAM), llegando a ser vicerrectora de Administración y Finanzas en la PUCMM, además de fundar el centro PUCMM-Emprende. Es egresada en Administración de Empresas en la Pontificia Universidad Católica Madre y Maestra (PUCMM). Además, cursó estudios en las áreas de Educación, Finanzas, Emprendimiento e Innovación, así como en Incubadoras de Negocios tanto en nuestro país como en el exterior, llegando a obtener el título de Magíster en Administración de Empresas (MBA) de la Universidad de APEC doble titulación con la Universidad de Quebec en Montreal. Compaginó sus estudios con su vida laboral a muy temprana edad, rotando por todas las áreas de las empresas familiares, hasta llegar a asumir la responsabilidad de gerente general en las empresas comerciales y tabacaleras. También, es miembro de diferentes asociaciones empresariales y posee una marcada vocación por la educación.
Nació el 10 de septiembre de 1966 en la ciudad de Santiago de los Caballeros, República Dominicana. Creció en el seno de una familia trabajadora y emprendedora, con negocios en diferentes sectores, siendo referentes en la creación de empleos en la zona. Educada en una familia con gran vocación humana y política, apoyando siempre las acciones de los distintos líderes demócratas dominicanos. Es madre, abuela, empresaria y defensora de la educación como herramienta de superación.