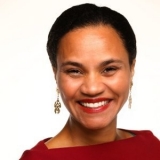 Philippa Scarlett
Head of Global Government Affairs, RELX
Philippa Scarlett is the head of worldwide government affairs and policy at RELX, a U.K.-based public company with over 33,000 employees globally and which provides information-based analytics and decision tools for customers in more than 180 countries.
Previously, she served as Principal Counsel at Apple Inc., where she spearheaded Apple's Environmental, Social and Governance strategy and led the company's human rights work in its operations and supply chain. Earlier in her tenure at Apple, she negotiated large intellectual property licensing deals. Before Apple, she served in the Obama Administration in both the White House and the U.S. Department of Justice. At the White House, she served as Deputy Intellectual Property Enforcement Coordinator, where she developed policy across the federal government to support the creative industries and combat IP theft. At the U.S. Department of Justice, she served as Deputy Associate Attorney General, a member of DOJ's senior leadership team where her portfolio included management of policy as well as major civil and criminal enforcement matters of the Civil Rights Division; Antitrust Division; Access to Justice Office; and intellectual property matters from across the agency. Before this government service, she was a Litigation Partner at the international law firm Kirkland & Ellis LLP.
She currently serves on the Board of Directors of the civil rights organizations the Center for Democracy and Technology and the National Partnership for Women and Families.
Scarlett holds an undergraduate degree from Stanford University, a master's from Harvard University, and her law degree from Columbia Law School. Early in her legal career, she served as a law clerk to Justice Stephen G. Breyer at the U.S. Supreme Court and to Judge Ann C. Williams on the U.S. Court of Appeals for the 7th Circuit.
Scarlett grew up around the world (in Africa, Asia, Europe, North America, and South America) and speaks several languages.