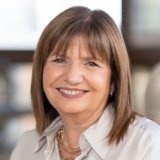 Patricia Bullrich
Presidential Candidate, Juntos por el Cambio
Patricia Bullrich is an Argentine politician and one of the leaders of the coalition Juntos por el Cambio. She was the Minister of Security of the Nation during the 2015-2019 administration; a national deputy for the Autonomous City of Buenos Aires in the periods 2007-2015 and 1993-1997; Minister of Labor from October 2000 to October 2001; Minister of Social Security between October and November 2001; and Secretary of Criminal Policy between 1999 and October 2000. 
After winning the primary elections in 2023, she became the presidential candidate for the 2023 presidential elections as part of the Juntos por el Cambio alliance.
Patricia Bullrich es una política argentina y una de los líderes de la coalición Juntos por el Cambio. Fue ministra de Seguridad de la Nación durante la gestión 2015-2019; diputada nacional por la Ciudad Autónoma de Buenos Aires en los períodos 2007-2015 y 1993-1997; ministra de Trabajo entre octubre de 2000 y octubre de 2001; ministra de Seguridad Social entre octubre y noviembre de 2001; y secretaria de Política Criminal entre 1999 y octubre de 2000. 
Tras superar las elecciones primarias de 2023,7 se convirtió en la candidata a presidente de cara a las elecciones presidenciales del 2023 por parte de la alianza Juntos por el Cambio.