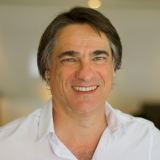 Nicolás Jodal
CEO, GeneXus
Nicolás Jodal, together with Ing. Breogán Gonda, is the co-creator of GeneXus, the world's leading tool for making mission critical applications on multiple platforms, using artificial intelligence. The creation of GeneXus earned them both the National Engineering Award—by the National Engineering Academy of the Oriental Republic of Uruguay. Currently, Mr. Jodal is the CEO of the GeneXus company, the Uruguayan company that created the namesake software used in more than 45 countries. Jodal is also an active promoter of entrepreneurship. Currently, he also participates in the ThalesLab board of directors, Company Builder, created to support high-potential technological start-ups and spin-offs."
Jodal is a systems engineer, graduated from the University of the Republic of Uruguay.
Nicolás Jodal, junto al Ing. Breogán Gonda, es co-creador de GeneXus, la herramienta líder en el mundo para hacer aplicaciones de misión crítica en múltiples plataformas, utilizando inteligencia artificial. La creación de GeneXus les valió a ambos el Premio Nacional de Ingeniería—por parte de la Academia Nacional de Ingeniería de la República Oriental del Uruguay. Actualmente, el Ing. Jodal, es el CEO de la compañía GeneXus, la empresa Uruguaya creadora del software homónimo utilizado en más de 45 países. Jodal es también un activo impulsor de iniciativas empresariales. En la actualidad, participa además, en la directiva de ThalesLab, Company Builder, creada para apoyar Startups y Spin-offs tecnológicos de alto potencial."
Jodal es ingeniero de sistemas, egresado de la Universidad de la República de Uruguay.