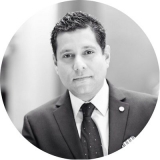 Neil Parsan
Co-Founder and Managing Director, Parsan Cross Global Strategic Advisors
Former Ambassador of Trinidad & Tobago to the U.S., Mexico, and the OAS
Chairman of the Global Alliance for Surgery, Obstetrics, Trauma and Anesthesia Care, G4 Alliance. Co-Founder, Managing Director – Parsan Cross
Ambassador Parsan was a Special Advisor to The World Bank Group, Co-Founder and Managing Director of Parsan Cross, a Global Strategic Advisory firm located in Washington DC and
Director of Public Sector engagement and Advocacy of the Caribbean Climate-Smart Accelerator. Dr Parsan's energy experience includes his role as Chairman of the Global Gas Council; Chairman of the International Gas Union (IGU) Global Ambassadors Network and an internationally recognized speaker and contributor on issues of climate smart action, renewal energy and energy efficiency in the Caribbean and Latin America.
Ambassador Parsan held the position of Ambassador Extraordinary and Plenipotentiary to the United States of America, non-resident Ambassador to the United Mexican States, and Permanent Representative of Trinidad and Tobago to the Organization of American States (OAS) for a period of five years. He also held the Cabinet position of Executive Secretary for Integral Development at the Organization of American States (OAS).
Dr. Parsan earned his Undergraduate Medical Degree at the University of the West Indies, Faculty of Medical Sciences, where he graduated with Distinction. After spending eight (8) years as a Lecturer/Tutor at the Faculty of Medical Sciences (UWI), he pursued a Master of Business Administration (MBA), where he graduated as Top Student with Distinction. He also holds a Registered Financial Consultant (RFC) Degree, a CACM from Harvard University School of Public Health, and a World Trade Professional Degree from ITM Worldwide in Sweden. Dr. Parsan was also awarded an Honorary Doctorate for Education, Culture, and Humanitarian work from the Americana University, registered with Cambridge University (UK) and the Congress of Mexico.