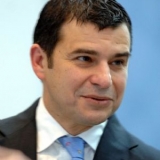 Miguel Galuccio
Chairman & CEO, YPF S.A.
Miguel Galluccio was appointed CEO of the state energy firm Yacimientos Petrolíferos Fiscales upon its renationalization on May 5, 2012. He holds a degree in petroleum engineering from the Institute of Technology of Buenos Aires. Galluccio resigned his post following the 1999 acquisition of YPF by Madrid-based Repsol. However, he joined Houston-based oilfield services firm Schlumberger, and was designated general manager of the firm's operations in Mexico and Central America. This division grew under Galluccio, with whom the Mexican state oil firm Pemex signed numerous oil services contracts. He was named director of Schlumberger's Integrated Project Management (IPM) division in 2005, and in 2011 became the director of Schlumberger Production Management; based in London, the latter was a division created by Galluccio for the oilfield services leader.
Miguel Galluccio fue nombrado CEO de la empresa pública energética Yacimientos Petrolíferos Fiscales (YPF) a partir de su renacionalización el 5 de mayo 2012. Anteriormente, se unió a Schlumberger en 1999, una empresa de servicios petroleros y fue nombrado administrador general de operaciones en México y Centroamérica. La división, que firmó varios contratos con la empresa estatal de México – Pemex, creció bajo el Sr. Galluccio. Fue nombrado director de la división de Administración de Proyectos Integrados de Schlumberger en 2005 y en 2011 se volvió director de Administración de Producción de Schlumberger en Londres, una división que había creado. El Sr. Galuccio obtuvo una licenciatura en Ingeniería Petrolera del Instituto Tecnológico de Buenos Aires.