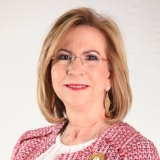 Mary Fernández Rodríguez
Partner, Headrick Rizik Alvarez & Fernández
Mary Fernández Rodríguez es socia fundadora de la firma Headrick Rizik Alvarez & Fernández de la República Dominicana; fundada en el 1985. Ha sido reconocida como Firma del Año por IFLR y por Chambers & Partners en varias ocasiones. 
Recibió la Medalla al Mérito de la Mujer Dominicana 2023, correspondiente a la categoría empresarial, otorgada por la Presidencia de la República Dominicana y el Ministerio de la Mujer. Es embajadora de la República Dominicana por ante la Cámara Internacional de Comercio (CII) para la Comisión de Propiedad Intelectual. Es árbitro y pasada presidente del Comité de Mediación, Conciliación y Arbitraje de la Asociación Interamericana de la Propiedad Intelectual (ASIPI). Juez del Tribunal Disciplinario de ASIPI. Árbitro y pasado miembro del Comité Ejecutivo del Centro de Resolución Alternativa de Controversias (CRC) de la Cámara de Comercio y Producción de Santo Domingo (CCPSD), así como miembro de la Junta Directiva de dicha Cámara de Comercio y Producción de Santo Domingo (CCPSD). Fue miembro, así como presidente de Junta de Regentes del Instituto Tecnológico de Santo Domingo (INTEC), entidad de educación superior de la República Dominicana. Pasada presidente del Consejo Latinoamericano de la Sección Internacional del New York State Bar Association (NYSBA). Pasada presidente del Comité Legal de la Cámara Americana de Comercio (AMCHAMDR) y de su Consejo Directivo. Actual miembro del comité legal y del de salud de AMCHAMDR. Es editora para la República Dominicana del "International Opposition Guide" de la International Trademark Association (INTA) y miembro del comité editorial de Gaceta Judicial, única revista jurídica del país. Mary es pasada presidente de la Asociación Dominicana de Propiedad Intelectual, Inc. (ADOPI) y de la Fundación Institucionalidad y Justicia, Inc. (FINJUS). 
Se especializa en temas corporativos y de negocios, derecho bancario, relaciones de franquicia y distribución, inversión extranjera, propiedad intelectual, regímenes de insolvencia, arbitraje, derecho sucesoral y fideicomisos. Es reconocida como abogada de la Categoría 1 ("Band 1") para Derecho de los Negocios, en las áreas de Derecho Corporativo/Comercial y Propiedad Intelectual por Chambers Global 2023 y Chambers Latin America 2023. Es recomendada por Latin Lawyer 250 2023 y International Financial Law Review (IFLR) 2023. Su trayectoria ha sido reconocida en el área de Derecho Corporativo por The Latin American Corporate Counsel Association (LACCA) 2023. Es profesora de contratos en materia de propiedad industrial de maestría en la Pontificia Universidad Católica Madre y Maestra (PCUMM). Es dominicana, graduada de abogado de la Universidad Pedro Henriquez Ureña (UNPHU) con mención summa cum laude en el año 1979. Cursó posgrado en ciencias políticas y relaciones Internacionales en George State University, 1979- 1980, en Atlanta, Georgia, EUA. Tiene un máster en propiedad intelectual (LLM) de la University of Illinois, Chicago, EUA. Se graduó en 2016, con honores. Habla español e inglés.