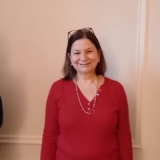 Martha Bárcena
Former Ambassador of Mexico to the United States
Martha Bárcena was born in Veracruz, on March 2nd, 1957. Married to Agustín Gutiérrez Canet (career diplomat), she has two daughters: Mercedes and Martha. She has a bachelor's degree in communication studies (Universidad Iberoamericana, Mexico City), and in philosophy (Pontificia Universitá Gregoriana, Rome). Has also studied a master's degree in diplomatic studies (Diplomatic School, Spain) and a master of philosophy specializing in political philosophy (Universidad Iberoamericana). She has post graduate courses on: inter-American system, U.S. Foreign Policy, international law, civil-military relationships, U.S. national security (University of Delaware as a Fulbright scholar), asian culture and chinese language (Hong Kong University), peace-keeping operations (Lester Pearson Centre, Canada). She speaks English, French, Italian and has knowledge of German, Danish and Chinese.
She joined the Mexican Foreign Service by exam in 1979, and in June 2013 she was appointed as Ambassador of Mexico to the Republic of Turkey and to Georgia, Azerbaijan, Kazakhstan and Turkmenistan with residence in Ankara. From December 2004 to June 2013, she was the Ambassador to the Kingdom of Denmark, concurrent to Norway and Iceland. At the Mexican Ministry of Foreign Affairs, Bárcena has occupied different positions as technical secretary of the III EU-LAC Summit (Guadalajara, May 2004) (2003-2004), advisor to the vice minister for Africa, Asia-Pacific, Europe and UN (2000-2003), specialized in international security matters and PKO. She has also been deputy head at Prospective and Planning Department (1998-2000).
She is author of various articles on international security, globalization, the role of civil society in international relations, EU-Mexico relationships and culture and diplomacy. Bárcena has participated on seminars and workshops on the U.S.-Mexico security agenda, in the Commission for the Study for the Reform of the State in Mexico. She is a founding member of Desarmex, NGO promoting education for peace and disarmament.