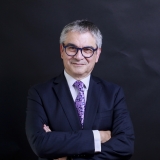 Mario Marcel 
Minister of Finance
Mario Marcel is a Commercial Engineer from the University of Chile and M. Phil. in Economics from the University of Cambridge, UK. In 2015 he became Board Member of the Central Bank of Chile. In 2016 he was appointed President of that institution, a position he held until the end of January 2022. Previously, he was Director of the Global Good Governance Practice of the World Bank; Deputy Director of Public Governance and Territorial Development of the Organization for Economic Cooperation and Development (OECD), and Manager of the Department of Institutional Capacity and Finance of the Inter-American Development Bank (IDB). For 13 years he worked for the Government of Chile in the Ministry of Finance. Between 2000 and 2006 he was Director of the Budget Office. 
In addition, he served as a researcher for the Corporation for Latin American Studies (Cieplan). 
Minister Marcel has developed teaching and research activities in universities both in Chile and in the United Kingdom. He has also served as a consultant for international organizations and governments of different countries such as Mexico, Colombia, Peru and Vietnam. He is the author of numerous publications on a wide range of topics, including areas such as macroeconomics, public finance, monetary policy, governance and public management, social policies and social security.
Mario Marcel es Ingeniero Comercial de la Universidad de Chile y M. Phil. en Economía de la Universidad de Cambridge, Reino Unido. En 2015 asumió como Consejero del Banco Central de Chile. En 2016 fue designado Presidente de ese organismo, cargo que ejerció hasta fines de enero de 2022. 
Anteriormente, fue director del área Práctica de Buen Gobierno del Banco Mundial; subdirector de Gobernabilidad y Desarrollo Territorial de la OCDE, y gerente de Capacidad Institucional y Finanzas del Banco Interamericano de Desarrollo (BID). Durante 13 años trabajó para el Gobierno de Chile en el Ministerio de Hacienda. Entre 2000 y 2006 fue Director de Presupuestos.  Además, se desempeñó como investigador de la Corporación de Estudios para Latinoamérica (Cieplan). Por otra parte, el ministro Marcel ha desarrollado actividades de docencia e investigación en universidades tanto en Chile como en Reino Unido.  Asimismo, ha ejercido como consultor de organismos internacionales y gobiernos de distintos países como México, Colombia, Perú y Vietnam. Es autor de numerosas publicaciones referentes a una amplia gama de temas, entre los que destacan ámbitos como macroeconomía, finanzas públicas, política monetaria, gobernabilidad y gestión pública, políticas sociales y seguridad social. Presidente del año de bancos centrales 2021, según la publicación inglesa especializada Central Banking.