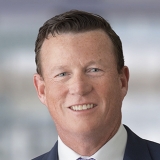 Marcos Gunn
Senior Vice President, Chubb Group
Marcos Gunn is senior vice president at Chubb Group and the regional president for Latin America. He is responsible for the general management and business results for all general insurance operations in the region, which includes Argentina, Brazil, Chile, Colombia, Ecuador, Mexico, Panama, Peru, Puerto Rico, Central America, and the Caribbean.
Mr. Gunn has more than 20 years of insurance industry experience. Most recently, he served as division president for the Northern Latin America region, which includes Mexico, Central America and the Caribbean, following ACE's acquisition of Chubb in 2016 until July 2019. Mr. Gunn also served as chief operating officer for the company's Latin America operations from 2009 to July 2019.
He was appointed senior vice president of the Chubb Group in August 2019. Mr. Gunn joined ACE in 2000 as a property and casualty manager in Argentina, and has served in a variety of management roles of increasing responsibility, including country president of Chile and regional vice president of Accident and Health in both Latin America and Asia Pacific. Prior to joining ACE, he served as a commercial insurance underwriter at Chubb in Argentina, as well as underwriting and management positions at other insurance companies.
Mr. Gunn holds a degree in Business Administration from the Catholic University of Buenos Aires.