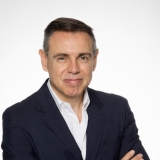 Marcelo Fumasoni
Head of Human Resources, Microsoft Latin America
Marcelo Fumasoni is an international human resources professional who has worked for global multinationals with a proven track record of finding the best solutions to complex organizational and multicultural/diverse needs, especially in a high matrix business environment. 
He has been successful in building and developing an organizational culture based on innovation and collaboration, high-performance teams, a top-tier Talent Management & D&I platform and leading multiple Change Management interventions that leveraged the diverse Business Strategies of organizations like Nissan, McDonald's, AstraZeneca, Sandoz, Alcon, Novartis, and currently Microsoft. He is also an innovator in the field of Training and Education, as the founder of the Novartis Corporate University in Latin America, and a pioneer of the Digital Transformation efforts into the Healthcare space. 
He has received several awards and honors throughout his professional career, as Great Place to Work and Red Shoe Movement (D&I), which reflects his fervor and commitment to creating an engaged and sustainable culture of collaboration, ethics, quality, customer focus and performance across Canada, US and Latin America. 
Marcelo holds a BS in Industrial Relations (UADE), an MS in Human Resource Management (UCES), an MS in Professional Management (UM), and an MBA (UM). He is also an Advisory Board member of the FIU Business School, the Latin America & Caribbean Initiative (LACI) at UM, and World City HR Connections. 
Marcelo's affection for improving access to education and healthcare for children in need has led to his continuous assistance and partnership with various NGOs in the field, like Global Humanitaria and TECHO where he serves as a board member, promoting and building awareness campaigns in the Americas.