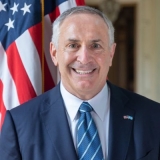 Marc R. Stanley
U.S. Ambassador to Argentina
President Biden nominated Marc R. Stanley as US Ambassador to Argentina on August 6, 2021. After unanimous Senate confirmation on December 18, 2021, he received accreditation from the Argentine government on January 24, 2022. Stanley's 40-year career as a trial lawyer was highlighted by his expertise in national class actions and complex litigation, earning him titles like "Best Lawyer in Dallas" and "Super Lawyer" in Texas. 
In addition to his legal work, Stanley was a dedicated political activist and a leader in the Jewish community. He held roles such as President of the Texas Trial Lawyers Association, Chairman of the Texas Public Finance Authority, and Council Member of the U.S. Holocaust Memorial Museum. Stanley's influence extended to Jewish charitable and political organizations, including chairing the National Jewish Democratic Council and the Legacy Senior Communities. 
Stanley's involvement in presidential campaigns spanned since 1988, and he played a significant role in the formation of the Blue Senate PAC in Dallas. His career started in the U.S. Congress, and he holds degrees from The George Washington University and the University of Texas School of Law. Married for almost 40 years, Stanley is an advocate of organ donation, having donated a kidney in 2014.
El Presidente Biden nominó a Marc R. Stanley como Embajador de Estados Unidos en Argentina el 6 de agosto de 2021. Después de una confirmación unánime por parte del Senado el 18 de diciembre de 2021, recibió la acreditación del gobierno argentino el 24 de enero de 2022. La carrera de 40 años de Stanley como abogado litigante se destacó por su experiencia en demandas colectivas a nivel nacional y litigios complejos, lo que le valió títulos como "Mejor Abogado en Dallas" y "Super Abogado" en Texas. 
Además de su labor legal, Stanley fue un activista político dedicado y un líder en la comunidad judía. Desempeñó roles como Presidente de la Asociación de Abogados Litigantes de Texas, Presidente de la Autoridad de Finanzas Públicas de Texas y Miembro del Consejo del Museo Conmemorativo del Holocausto de los Estados Unidos. La influencia de Stanley se extendió a organizaciones judías benéficas y políticas, incluido el liderazgo en el Consejo Democrático Judío Nacional y las Comunidades Seniors Legacy. 
La participación de Stanley en campañas presidenciales abarca desde 1988, y desempeñó un papel importante en la formación del PAC Blue Senate en Dallas. Su carrera comenzó en el Congreso de los Estados Unidos, y posee títulos de la Universidad George Washington y la Facultad de Derecho de la Universidad de Texas. Casado durante casi 40 años, Stanley es defensor de la donación de órganos y donó un riñón en 2014.