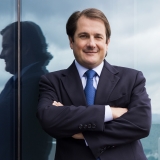 Luis Miguel Castillo
Chairman, Grupo Mariposa
Luis Miguel Castillo is currently chairman of the Board of Directors of Grupo Mariposa; he has a degree in business administration from Boston University and was named "Young Global Leader" by the World Economic Forum in 2010. 
He joined the Group in 1995 and under his leadership, transformed a Guatemalan soft drink company into an important food and beverages conglomerate with a solid portfolio of companies, with a relevant presence in Latin America and the United States. His expertise in business development, strategy and M&A have been key to Grupo Mariposa´s growth and transformation. Today, Grupo Mariposa is a multinational company with operations in 21 countries, reaching over 2MM points of sale. 
Luis Miguel promotes the group's integration into global initiatives with local impact. The company is part of the United Nations Global Compact, it has adhered to and supports the UN Women's Seven Principles for the Economic Empowerment of Women and is also a company committed with the Science Based Targets Initiative. In 2022, Luis Miguel led the issuance of the company´s first Sustainability-Linked Bond (SLB), an example of the company´s strong commitment to the sustainability agenda that seeks to catalyze a positive impact on people and planet. 
Luis Miguel is a founding member of GuateFuturo and HonduFuturo, private non-profit foundations, with educational, cultural, training, and professional development purposes offering opportunities to Guatemalan and Honduran professionals who wish to pursue postgraduate studies at the best universities in the world to then return to work for the development of their countries of origin. 
Along with other businessmen, Luis Miguel has led "Guatemala no se detiene" initiative, which seeks to increase investment, job creation, and the country's competitiveness.
He is the founder of Central America Real Solutions for the Plant, which aims to develop programs to protect and restore ecosystems; he is also a member of the Steering Committee of the Partnership for Central America that serves as a mobilizer and channel for foreign direct investment and social impact investment to facilitate the enabling environment for investments through seven multidimensional pillars, including financial inclusion, digital access, gender equity, job skilling, access to capital, infrastructure, and rule of law.