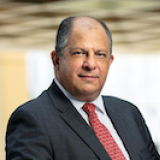 Luis Guillermo Solís
Former President of Costa Rica
Luis Guillermo Solís is the interim director and a distinguished visiting professor at the Kimberly Green Latin American and Caribbean Center at Florida International University.
Professor, diplomat and politician, Luis Guillermo Solís Rivera served as 47th president of the Republic of Costa Rica from 2014-2018.
Prior to his election, he was a full professor, researcher, Director of the Central American Master's Program in Political Science, as well as Deputy Director of the School of Political Science and Associate Dean of the School of Social Sciences at the University of Costa Rica. Upon the completion of his constitutional term, he became Distinguished Visting Scholar, and later Interim Director, at the Kimberlly Green Latin American and Caribbean Center, Florida International University in Miami, Florida, (2018-2022).
He also worked at the Costa Rican Ministry of Foreign Affairs as Chief of Staff to the Minister, and later as Ambassador at Large for Central American Affairs and Director General for Policy.  Between 2009 and 2012, he was representative of the Ibero American General Secretariat for Central America and Haiti. In 2016 he was appointed co-chair of the UN Secretary General High-Level Panel on the Economic Empowerment of Women.
Solís is a graduate of the University of Costa Rica and has a master's degree in History and Political Science from Tulane University. With 35 years as an educator, he has also taught in universities throughout the US and Europe, and in 1999 was a Fulbright Scholar at FIU. He has published extensively in books and professional journals on US-Latin American relations and Central American history and politics.
Professor Solis holds Doctor Honoris Causa degrees from the University of Korea, the Peoples' University of China, Université La Rochelle in France, Duquesne University in the United States and the Center for Tropical Agricultural Research and Teaching (CATIE). He has been recognized for his leadership in championing women's equality, Human Rights, peace and International Law throughout the world.