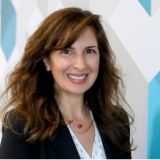 Liana Sucar-Hamel
Senior Director, Employee Communications & Community Impact, Americas Head of Communications, Latin America, Airbus
Liana Sucar-Hamel was named head of communications at Airbus Latin America and the Caribbean in 2017 and is responsible for all communications activities that promote and protect the Airbus brand and reputation in the region. She leads an international communications team who support the Company's commercial aircraft, helicopters and defence and space operations in Argentina, Brazil, Chile, Colombia, Mexico, Peru and Miami. 
In addition to her role as Head of Communications for Latin America, Liana is the Senior Director of Employee Communications and Community Impact for Airbus Americas, leading the Company's internal communications and philanthropic employee engagement activities for Airbus sites throughout North and South America. 
Liana brings more than 20 years of experience leading corporate communications, crisis management and social responsibility programs to Airbus, which she joined in 2010 as a Communications Manager. Previously, she worked at GE and FedEx, where she led executive visibility and thought leadership programs, crisis and workplace communications and media training/presentation coaching. Liana started her career working for two international public relations agencies—Fleishman Hillard and Weber Shandwick—honing her skills in government relations, project management and corporate communications. She also reported for the Miami Herald and Gainesville Sun newspapers. 
Liana earned a bachelor's degree in journalism from the University of Florida. 
Liana is a native Spanish- and English-speaking multicultural professional with a working knowledge of Portuguese. An avid traveller and self-proclaimed "foodie," Liana has a passion for exploring the cuisines of the world with her husband and daughter.