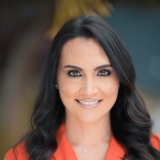 Julianne Canavaggio
CEO, Latin America (Ex. BraMex), Lazard
Julianne Canavaggio is an investment banker and lawyer with over 20 years of experience working in the US and Latin America. She is the CEO of Lazard Latin America (Ex. BraMex).
In her client work, Julianne works with business leaders, entrepreneurs and families as a trusted advisor, supporting them on strategic decisions such as mergers and acquisitions, divestitures, joint ventures, and special committee assignments, so that these decisions best serve their greater company goals. Prior to her current role, Ms. Canavaggio served as global Chief of Staff for Financial Advisory, working with the leadership team and external partners to support the delivery of Lazard's strategic priorities (2021-2022), and Head of Central America and the Caribbean (2014-2021).
As a trusted advisor, Julianne also serves on multiple boards of directors - most notably as an independent board member of Copa Holdings S.A. (NYSE: CPA), a leading Latin American provider of airline passenger and cargo service, an independent board member of Provivienda / Cusezar, a real estate development conglomerate in Colombia, Panama and Mexico, as well as multiple independent and non-independent director positions in privately held companies. Ms. Canavaggio is also on the board of trustees for the Panamerican Development Foundation, a nonprofit organization established by the Organization of American States.
Ms. Canavaggio holds a BA from Harvard University and a JD from Tulane University.