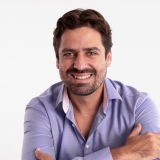 Juan Pablo Mata
CEO, Grupo Mariposa
Juan Pablo Mata, a Guatemalan, is the CEO of Grupo Mariposa where he's responsible for leading the sustainable growth of the Group.
Juan Pablo holds an MBA from the Wharton School, University of Pennsylvania, a bachelor of arts and science with a major in finance and economics at Babson College, and an executive education degree at Harvard Business School.
Juan Pablo was appointed Chief Executive Officer of Grupo Mariposa in 2020, where he leads APEX the corporate center of the group in charge of catalyzing growth and transformation for CBC, BIA, BELIV and Apex Capital. He joined Grupo Mariposa (GM) in 2015 as chief human resources officer. In this position, he led the transformation of the group into a food & beverage conglomerate. He was later appointed as chief strategy officer where he led the strategy and M&A for the group contributing to the consolidation of the group's growth and later led Guatemala and Jamaica operations—Mariposa's largest operations—which generate more than $100M in additional top line growth. Before GM, Juan Pablo started his career as a global management trainee at Anheuser-Busch InBev in Brazil and worked as a consultant in Mexico at The Boston Consulting Group.
Juan Pablo leads the ESG, digital transformation, disruption, talent, and culture for GM. Under his leadership, the group defined its purpose of unleashing value in the Americas to catalyze inclusive growth and prosperity in the region. Grupo Mariposa aims to be part of the solutions to the challenges faced by the region and generate shared value with all stakeholders, especially the communities of the countries in which the group has operations.
Juan Pablo led the issuance of the first Sustainability Linked Bond in January 2022, which is a manifestation of the Group's strong commitment to its ESG agenda and generating prosperity in Latin America. This bond highlighted the Group's solid credit profile and its attractiveness to a broad base of investors from the United States, The European Union, Asia and those focused on the ESG Agenda.
He is a board member at the Americas Society and a member of the Aspen Institute's Central American Leadership Initiative (CALI), and was appointed by the World Economic Forum to be part of the Young Global Leaders 2023. He founded a social venture called Creciendo Juntos which seeks to create the conditions to eradicate multidimensional poverty in the private sector. He is a board member at Ambev Guatemala.