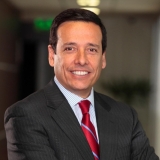 Javier Velarde
Acting Group Head, External Relations, Vice President of Sustainability and External Relations, LATAM, Newmont
Javier Velarde has served Newmont as Regional Vice President of Sustainability and External Relations for Latina America, since 2018 and is responsible for developing and implementing strategies for external relations, government affairs, and communications across the Region. 
Effective August 1, 2023, he has been named acting Group Head External Relations responsible for developing and implementing strategies for all of Newmont's global external relations, government affairs, multilateral organization interactions, NGO and civil societal relationships and engagements as well as all external communications. 
Javier has held various leadership roles on the Sustainability and External Relations and Legal teams at Newmont and Minera Yanacocha since 2001.  During his 22-year career with Newmont he has supported Operations, Exploration and Projects in countries such as Peru, Suriname, Argentina, Mexico, Colombia, Chile and Haiti, building a broad range of relationships with communities, government authorities and key stakeholders. An attorney by profession, with a Master's Degree in natural resources and environmental law, Javier has sound knowledge on the regulatory aspects of the mining sector as well as assessing social and political environment in Latin-American countries. He also has broad experience in government affairs, community relations and communication. 
Prior to Newmont, he worked as an attorney for Peruvian law firms specialized in oil and mining industries. He holds a Master's degree in Natural Resources and the Environmental Law from University of Utah and a Bachelor's in Law and Political Science from Universidad de Lima.
Javier Velarde es Jefe de Grupo para Relaciones Externas interino, responsable de diseñar e implementar estrategias para todas las relaciones externas globales de Newmont, asuntos gubernamentales, interacciones con organizaciones multilaterales, relaciones y compromisos con ONG y sociedad civil, así como todas las comunicaciones externas. 
Antes de su actual rol, Javier fue el Vicepresidente Regional de Sostenibilidad y Relaciones Externas de Newmont para Latina América, desde el 2018, donde se encargaba de diseñar e implementar estrategias para las relaciones externas, asuntos gubernamentales y comunicaciones de la Región. 
Javier ha ocupado varios roles de liderazgo en los equipos de Sostenibilidad y Relaciones Externas y Legal en Newmont y Minera Yanacocha desde 2001. Durante sus 22 años de carrera con Newmont, ha apoyado a Operaciones, Exploración y Proyectos en países como Perú, Surinam, Argentina, México, Colombia, Chile y Haití, construyendo una amplia gama de relaciones con comunidades, autoridades gubernamentales y socios clave.  Javier tiene un sólido conocimiento sobre los aspectos regulatorios del sector minero, así como la evaluación del entorno social y político en los países latinoamericanos. También tiene una amplia experiencia en asuntos gubernamentales, relaciones comunitarias y comunicación. 
Antes de Newmont, trabajó como abogado para estudios jurídicos peruanos especializados en industrias petroleras y mineras. Tiene una Maestría en Derecho de Recursos Naturales y Ambiental de la Universidad de Utah y una Licenciatura en Derecho y Ciencias Políticas de la Universidad de Lima.