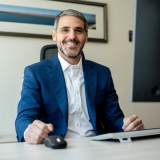 Ignacio Mehech
Vice President of External Affairs LatAm and Country Manager of Chile, Albemarle Corporation
Lawyer from the University of Chile, Diploma in Natural Resources and Energy Law from the Catholic University and Master of Laws from the University of Melbourne, Australia. Before assuming his current position, he served as Legal Manager of Albemarle Chile, where he led the legal area of the company assuming important challenges, among them, the successful negotiation of contracts between the company and the State. With extensive experience in the regulatory and mining sector, prior to Albemarle, Ignacio Mehech worked as a lawyer at Compañía Minera El Abra. In his position, he has stood out for his work in the field, with a lot of work with communities and representing Albemarle in various national and international forums. He has also led the start of exploration in the Antofalla salt flat in the Argentine province of Catamarca.
Abogado de la Universidad de Chile, Diplomado en Derecho de los Recursos Naturales y Energía de la Universidad Católica y Master en Derecho de la Universidad de Melbourne, Australia. 
Antes de asumir su actual cargo, se desempeñó como Gerente Legal de Albemarle Chile, donde lideró el área legal de la empresa asumiendo importantes desafíos, entre ellos, la exitosa negociación de contratos entre la empresa y el Estado. Con amplia experiencia en el sector regulatorio y minero, antes de Albemarle, Ignacio Mehech trabajó como abogado en la Compañía Minera El Abra. En su cargo ha destacado por desarrollar una labor de terreno, con mucho trabajo con comunidades y representando a Albemarle en diversos foros nacionales e internacionales. También ha liderado el inicio de exploraciones en el salar de Antofalla, en la provincia argentina de Catamarca.