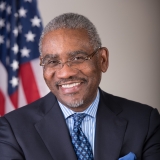 Gregory Meeks
Chairman, Foreign Affairs Committee, U.S. House of Representatives
U.S. Congressman Gregory Meeks, now in his twelfth term, has devoted his energy and skill to serving one of the most diverse constituencies in the nation. His efforts on behalf of his district, the New York 5th, and the nation as a whole have earned Chairman Meeks the respect of his constituents, New Yorkers, and Democrats and Republicans alike. He is known for being an effective, principled, and common-sense leader. As a fervent supporter of the Affordable Care Act enacted under President Barack Obama, Chairman Meeks believes that it should be enhanced. Chairman Meeks is part of the forward-thinking, pro-growth Democratic members who are part of the New Democrat Coalition (NDC), the largest ideological caucus in Congress. He co-chairs the NDC's Trade Task Force.
Chairman Meeks is the first Black member of Congress to serve as chair of the House Foreign Affairs Committee. He is a multilateralist with decades of experience in foreign policy. He believes that the United States should build coalitions around our interests and work with other countries to build a stable and prosperous future. He also is a senior member of the House Financial Services Committee, where he serves as the chairman of the Subcommittee on Consumer Protection and Financial Institutions, which oversees all financial regulators such as the FDIC, Federal Reserve, and all matters pertaining to consumer credit and the stability of the banking system. He previously served as a Dodd-Frank conferee. Key provisions in the Wall Street reform law – including its stress testing requirement, the creation of the Office of Minority and Women Inclusion at the financial regulatory agencies, and the requirement that U.S. public companies who use natural resources to report their due diligence in stamping out conflict minerals– were co-authored by Chairman Meeks and remain in the law today.
Chairman Meeks earned a bachelor's in history from Adelphi University and obtained his J.D. from Howard University School of Law.