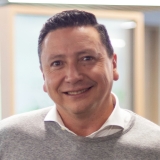 Gerardo Herrera Perdomo
Managing Director, Marsh Advisory, Latin America & Caribbean
Gerardo Herrera Perdomo is a consultant in Risk Management and Corporate Governance at Marsh Advisory, as well as managing director for Latin America and the Caribbean. He joined Marsh from Deloitte, where he held different executive and technical positions, last as managing partner for Governance, Risk, and Regulation. He is the former president of the Corporate Governance Committee of Procapitales and Co-Director of IGCLA (Network of Corporate Governance Institutes of Latin America). 
He is an international speaker and guest professor at various universities in Latin America, as well as a member of think tanks on risk management. 
Gerardo holds a degree in finance and foreign affairs from the Externado University of Colombia and is member of the Harvard University Leadership Program.
Consultor en Gestión de Riesgos y Gobierno Corporativo. Director General para Latinoamérica y el Caribe de Marsh Advisory, así como Sostenibilidad y Cambio Climatico. Anteriormente, Socio Director de la práctica de Gobernanza, Riesgo y Regulación para Deloitte, Presidente del Comité de Gobierno Corporativo de Procapitales y Codirector de IGCLA (Red de Institutos de Gobierno Corporativo de América Latina).
Conferencista internacional, catedrático invitado de diferentes universidades en Latinoamérica, así como miembro de paneles de expertos en gestión de riesgos en la región. 
Profesional en Finanzas y Relaciones Internacionales por la Universidad Externado de Colombia y miembro del Programa de Desarrollo de Liderazgo de la Universidad de Harvard.