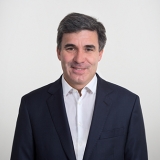 Gastón Bottazzini
CEO, Falabella
Gastón Bottazzini, born in Argentina in 1969, took over as CEO of Falabella on June 1, 2018. He previously worked as CEO of Falabella Financiero for approximately 10 years, which afforded him deep knowledge of the businesses and markets in which Empresas Falabella operates, as well as its different subsidiaries. Bottazzini led the innovation and digitalization of Banco Falabella and CMR in Chile and the region, launching Banco Falabella in Colombia and leading the entry of S.A.C.I. Falabella into Mexico. 
Before joining Empresas Falabella, he was a partner at McKinsey & Company, where he worked between 1996 and 2008, mainly in the financial sector of several countries in Latin America, the United States and Spain. He holds a Master of Business Administration from Harvard Business School and a Bachelor of Science degree from the University of California, Davis.
Gastón Bottazzini, nacido en Argentina en 1969, asumió el cargo de CEO de Falabella el 1 de junio de 2018. Anteriormente trabajó como CEO de Falabella Financiero durante aproximadamente 10 años, lo que le proporcionó un profundo conocimiento de los negocios y mercados en los que opera Empresas Falabella, así como de sus diferentes subsidiarias. Bottazzini lideró la innovación y digitalización de Banco Falabella y CMR en Chile y la región, lanzando Banco Falabella en Colombia y liderando la entrada de S.A.C.I. Falabella en México. 
Antes de unirse a Empresas Falabella, fue socio en McKinsey & Company, donde trabajó entre 1996 y 2008, principalmente en el sector financiero de varios países de América Latina, Estados Unidos y España. Tiene un Master en Administración de Empresas de la Escuela de Negocios de Harvard y una Licenciatura en Ciencias de la Universidad de California, Davis.