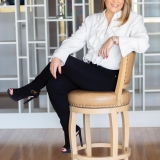 Erika Falfán Mayer
Head, Sam's Club e-commerce business unit, sams.com.mx
Erika Falfán Mayer is the head of Sam's Club e-commerce business unit, sams.com.mx, where she leads an international team in Mexico City, Bangalore, and Sunnyvale. She is responsible for the strategy, operational execution, technological releases in web and on apps, as well as for members' shopping experience from the moment they begin their online/app journey to the moment they receive or collect their orders. Falfán is also an active members of Walmart Mexico's Diversity Committee where she co-leads the gender diversity initiative. She's an active member of Walmart's Accelerated Pipeline Experience Group (APEX) and the International Women in Leadership group. She is interested in developing new opportunities for women in Mexico, passionate about women's leadership, and a strong supporter of diversity and inclusion, which earned her the 2020 "Mujer Tec" awards in the transformational power category.
Falfán joined Walmart Mexico in 2015 as the CFO for Sam's Club and later became senior finance director the Suburbia business unit. Prior to joining Walmart, she worked at Danone Group for 12 years where she held various executive roles, including CFO for Bonafont HOD.
Falfán has a joint bachelor's in finance administration from ITESM and Universidad de Comillas Madrid. She also earned an MBA from ITESM through a joint graduate program with Instituto de Empresas in Madrid.