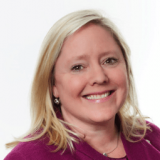 Elizabeth Reicherts
Interim Senior Vice President of Global Public Policy and Vice President of External Affairs, General Motors
Elizabeth Reicherts serves as General Motors' interim senior vice president of global public policy. In this role, Reicherts is responsible for leading GM's engagement on key policies, global and domestic, impacting the company's business, its customers and its employees.
Additionally, Reicherts maintains the role as GM vice president of external affairs. In this role, she leads the development and execution of GM's political strategy and advocacy. She is responsible for managing GM's state and local government affairs, federal government affairs, and the PAC and grassroots teams.
Reicherts joined GM in September 2019 with more than 25 years of experience in U.S. and international government affairs. She previously served as head of U.S. government affairs at Siemens and spent more than 20 years at BP, where she advocated on behalf of the businesses throughout the energy value chain and managed international affairs for Africa, Latin America Caribbean, and Canada. In both roles, Reicherts developed political, policy, and crisis management experience, providing strategic counsel at the U.S. and managing board levels.
Reicherts currently serves on the boards of the Alliance for Automotive Innovation, the Bryce Harlow Foundation, Jefferson Islands Club, and Women in Government Relations Leadership Council. A native of Michigan, Reicherts holds an MA in political management from the George Washington University and a BA in psychology from Western Michigan University.