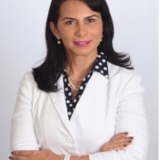 Claudia Brabata
Director of Policy and Government Affairs, Medtronic Latin America
Claudia Brabata is the Director of Policy and Government Affairs for Medtronic Latin America, and has a career spanning more than 25 years in the health industry, performing various roles in reimbursement, market access, government policy, advocacy, marketing, business development and finance with local, regional and global responsibilities.
She is the current president of the "AdvaMed – Latin America Access Working Group" and former president of the "Latin America – Industry Committee at the International Society of Pharmaco-Economics and Outcomes Research – ISPOR".
She has a B.B.A. in Accounting from the Instituto Tecnológico de Monterrey ITESM (Mexico), a Master's Degree in Health Economics, Policy and Management from the London School of Economics LSE (UK), a specialization in Business Administration from the Instituto Tecnológico Autónomo de México ITAM (Mexico) and other qualifications in health policy and economics (UK).