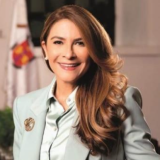 Carolina Mejía
Mayor of Santo Domingo
Carolina Mejía is the first female mayor of Santo Domingo in its 524 years of history. She is also secretary general of Partido Revolucionario Moderno (PRM), the current ruling party, and vice president of the UCCI (Union of Ibero-American Capital Cities).
She tops the list for best mayors in the continent, with a 74% approval rating and the lowest rejection rate (12%) among 17 mayors across the region. She has paved the way for many women in national and international politics and has dedicated herself to serve as a driving force that promotes the empowerment of new generations.
Mayor Mejía has an unwavering commitment to provide the capital's people with a better quality of life and a guarantee the welfare they deserve. She is recognized for her innovative and modern style of governing and for her administration's work on garbage collection and inclusive public space for all, including children, the disabled and the elderly.
While in office, Mejía has made enormous strides in improving the district's overall quality of life. This is directly reflected in advancements made in terms of the district's waste management, traffic congestion, and public and recreational spaces. In addition, the mayor closed 2022's fiscal year without any debt, the first this had occurred in the office's history.
Mejía holds a bachelor's degree in economics from Pontificia Universidad Católica Madre Maestra, Dominican Republic and studied systems' technology and French at O'Sullivan College and Concordia University.
Mejía is married to Juan Garrigó Lefeld, an insurance businessman of Catalan and German descent. They have three children: Juan de Jesús, Diego José, and Isabel Carolina. The dedication, care, and standard of living she expects for her loved ones is the same level she aspires to bring to Santo Domingo.