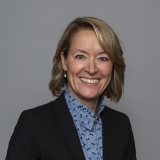 Carolina Klint
Risk Management Leader for Europe, Marsh
Carolina Klint was appointed risk management leader for Europe in October 2020. She oversees Marsh's Risk Management teams in the region and leads the development of strategic solutions that support and enable Marsh's largest clients to navigate the global risk landscape. Carolina is a member of the Marsh Europe Executive Committee and serves as the official Marsh McLennan spokesperson for the Word Economic Forum's Global Risks Report.
Carolina joined Marsh in 2017 as CEO of Marsh's Northwest Europe Region. Before joining Marsh she held several senior positions with AIG, most recently as president of its US South Region, responsible for AIG's Commercial Business in 11 states. Carolina has also held the position of Country CEO of AIG in Sweden and under her leadership, AIG was named Insurance Company of the Year at the 2013 Insurance Awards held by R&F, Sweden's leading insurance publication. 
Carolina speaks frequently about risk and resilience, change management, and the importance inclusive leadership as a keynote speaker, panelist, and guest lecturer. She has appeared on Swedish business weekly Veckans Affarer's list as one of "The 125 Most Powerful Women in Business" for three consecutive years. In December 2013, Carolina was named honoree for the Business Insurance magazine's Women to Watch and she is one of the co-authors of the book Words of Wisdom from Women to Watch: Career Reflections from Leaders in the Commercial Insurance Industry (Wiley 2016). In 2022, she was named Governance, Risk and Compliance (GRC) Profile of the Year in Sweden. Carolina is a non-executive director on the board of Anticimex Group AB and serves on the board of the Business Insurance Foundation.