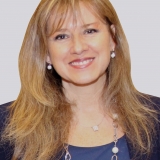 Carmen Román
General Counsel and Head of Corporate Affairs, Walmart Chile
Carmen Roman Arancibia, a lawyer from the Universidad Gabriela Mistral of Chile, has more than 18 years of experience in the retail area.  She started her career in "Fontaine and Co." law firm and since 1999 has worked in a Chilean supermarkets chain, owned by the Dutch multinational company, Ahold. In 2004 she was contracted by the Chilean retail company Cencosud as a corporate general counsel, actively participating in the international process of the expansion of the Chilean group in South America. She specializes in acquisitions, company mergers, and the corporate area. Since December 2009, she has worked in Walmart Chile S.A, as a corporate general counsel and board secretary.
During her first four years in the company she was responsible for the development and implementation of the Ethics and Compliance Program. Since 2016, she has also been responsible for the Corporate Affairs Area.
In 2014, she was elected as counselor of SOFOFA, an influential Chilean association, and since 2015, she has been part of its executive board committee. She is currently "Acción Empresa" board member, member of Círculo Legal de Icare, and board member of the Legal Sustainability Forum of Universidad Católica de Chile. 
In 2010, 2013, and 2017, she was named as one of the top 100 female leaders of the country, recognized by peers and professionals from other areas of Chilean business. In June 2017, she was recognized by business professionals, business association academics, and governmental  authorities as the Chilean female executive of the year. In November 2017, she was elected by "Leading Lawyers Ranking" as the best lawyer of the year in the companies category.
Carmen Román Arancibia es abogado de la Universidad Gabriela Mistral de Chile y cuenta con más de 18 años de experiencia en el área de retail. Inició su carrera profesional en el estudio "Fontaine y Compañía" y luego desde el año 1999 trabajó en la cadena chilena de supermercados Santa Isabel, perteneciente a la multinacional holandesa Ahold. En el año 2004 y luego de la adquisición de Santa Isabel por parte de la cadena de retail chilena Cencosud, fue nombrada gerente de asuntos legales, participando activamente en el proceso internacional de expansión del Grupo chileno en Sudamérica. Se ha especializado en adquisiciones y fusiones de compañías y en el área corporativa. Desde Diciembre de 2009 trabaja en Walmart Chile S.A., como gerente de asuntos legales y secretaria del directorio.
Durante los primeros cuatro años en la compañía, estuvo a cargo del desarrollo e implementación del programa de Ética y Compliance de la Compañía. Desde el año 2016 es además  responsable del Área de Asuntos Corporativos de la compañía.
En otro ámbito, el año 2014 fue elegida consejera de la SOFOFA y desde el año 2015 forma parte de su comité ejecutivo, una influyente  asociación gremial de empresarios chilenos. Actualmente es directora de Acción Empresa,  miembro del Círculo Legal de Icare, y miembro del Directorio de Sostenibilidad Legal de la Universidad Católica de Chile.
Los años 2010, 2013, and 2017 fue premiada como una de las 100 mujeres líderes del país, reconocimiento otorgado por sus pares y profesionales de otras áreas del empresariado chileno.
En Junio 2017, Carmen fue reconocida por empresarios, asociaciones de empresarios, académicos, y autoridades gubernamentales como la ejecutiva chilena del año. En Noviembre de 2017, fue elegida por el ranking "Leading Lawyers" como la mejor abogada del año en categoría empresas.